INVITATIONS STILL OPEN
Winning invitees:
Swarnava Seal
Vineeth Jose
Pradeep
Abhikun
jayasimhareddy
Sunny Sayantan
Maxzeroedge
Aakash
Pranav Pujara
Krishnaraj_88
Rachit Seth Vivek Agrawal
— Please add me on Orkut http://orkut.nishant.me if you are not my 'friend'. Invites can only be sent to friends.
Thanks everyone for commenting. Try your luck at getting invited directly by Google via http://www.orkut.com/neworkut
****************************************************
Alright I'm not going to stress much on What's the new Orkut thingy.. read it here: http://en.blog.orkut.com/2009/10/introducing-new-version-of-orkut-fun.html
I luckily noticed this button on my account now:
Clicking on which switched my Orkut to the newer version: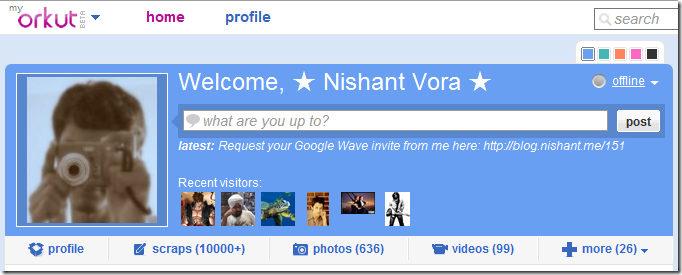 Now I have 5 Invites only to give away. Google makes it so difficult to share invites with such limited numbers.. atleast Wave had 20 invites for me to give away.
I'll just make it simple by being fair and hosting a randomizer to pick from all of the comments to this post. If you log into your Orkut account and do not find the button, you can post a request here. The invitees will be chosen on 4th November.